Monthly Archives:
August 2011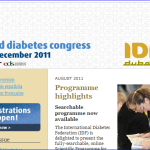 Get well informed about the World Diabetes Congress in Dubai from December 4 till December 8, 2011.
Organized by the International Diabetes Federation IDF.
Click on the picture below to open the full August 2011 Newsletter.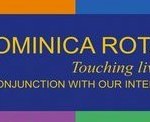 The president of the Dominica Diabetes Association, Ms. Marvlyn Birmingham, has announced a major step forward in improving diabetes foot care in Dominica.

Marvlyn Birningham, who is not only president of DOMDA but also the president for 2011-12 of the Rotary Club of Dominica has confirmed that the Rotary Foundation has agreed a "matching grant" for the Step by Step Foot Care Project. This is a mutual fund raising project between the Hereford Wye Valley Rotary Club in the UK and the Rotary Club of Dominica. Also the Rotary Clubs of Marches (UK) and Kent (Ohio, US) will donate funds for this matching grant project. In simple terms this means that the Rotary International Organization doubles every dollar that Rotary clubs raise for this project.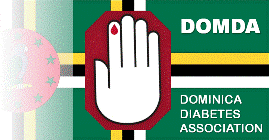 Ms. Birmingham says that there will be much to do over the next three years but the Step by Step = SbS Programme has already proven its value on other Caribbean islands where the levels of amputations have gone down by as much as 50%.
The lead faculty member of this program Prof. Dr. Vilma Urbancic-Rovan together with Rotarian John Greedy will pay a visit to Dominica from August 11 to 14 to do a site visit and to initiate the SbS Programme.
Dr. Urbančič-Rovan and Mr. Greedy are expected to meet with Ministry of Health Officials and medical and nursing personnel, officials of Ross University and other stakeholders, to assess the Dominican situation and develop a training programme best suited to identified needs.

What makes SbS so special? It is a program that helps doctors, nurses and other health workers recognize and treat diabetes foot problems from the early stages and it is a continuous training over the course of three years.
The fund raising efforts of the joined Rotary Clubs together with the additional money from the Rotary Foundation will be used to fund the purchase of equipment, training materials and patient education aids, for use by the course participants and the equipment and materials will remain in Dominica.