Monthly Archives:
April 2012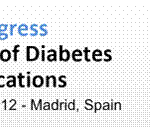 Dear colleagues,
We are pleased to update you with important information about the 7th World Congress on Prevention of Diabetes and its Complications that will be held in Madrid in November 11-14, 2012.

Call for Abstracts
Abstracts submission is open. You will be able to send your abstract through the new website of the WCPD 2012 (www.wcpd2012.com).

We encourage you to participate with your posters and oral communications as they are key to show, the great quantity and quality of projects that are being developed Worldwide within prevention of diabetes and its complications, to the scientific community.
Deadline for abstracts submission concludes next May 31st.

Preliminary Programme
The Scientific Committee is willing to offer an outstanding programme. Trying to attract best experts and cover the most relevant topics on prevention of diabetes and its complications is our aim.
The programme will be regularly updated in www.wcpd2012.com.
On-line registration and accommodation forms
Registration system has already been implemented. You can benefit from early registration fees until July 15th.

If you also want to guarantee your accommodation at the congress venue, make your room reservation now. Please take into account that first-come will be first-served.

New WCPD 2012 website
A new website with lot of new information and features has been developed. We expect that you find it useful.
Should you miss some information please do not hesitate to contact us.

Best regards,

Jaakko Tuomilehto and Rafael Gabriel
Co-Presidents of the WCPD 2012