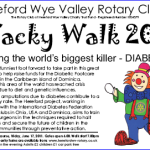 The Hereford Wye Valley Rotary club organizes a fund raiser for Dominica
THE WACKY WALK 2011
Battling the world's biggest killer – DIABETES
The Rotary club of Hereford Wye Valley in the UK wants to help Dominica fund the SbS (Step by Step) diabetic footcare project. So, as one of their many efforts to raise funds they are organizing this weekend their Wacky Walk.
Lower limb amputations due to diabetes contribute to a high mortality rate. The Hereford project, working in conjunction with the International Diabetes Federation and Rotary clubs in Ohio, USA and Dominica, aims to train nurses and surgeons in the techniques required to halt these deaths and secure the future of children in the affected communities through preventative action.
Find out more about this great initiative by clicking on the images below so you can see the full size poster and the entry form.
Donations without participating in the walk are always welcome. Just contact the Rotary club of Hereford or visit their web page at http://www.herefordwv-rotary.co.uk/.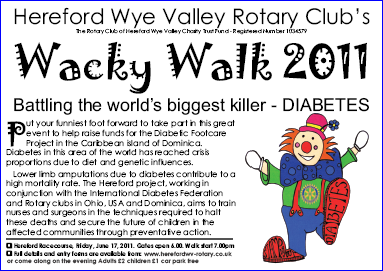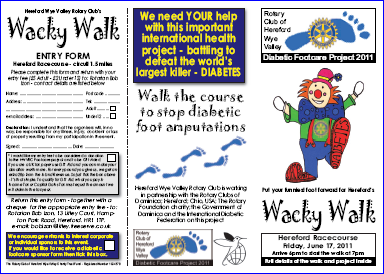 Walk the course to stop diabetic foot ampiutations